If you're getting ready to move into a dorm, you've probably got a decent idea of what you need.
You've checked all the checklists. You've read all the lists. Your college probably even provides some basic recommendations for students moving out for the first time. (Kudos to them, because some of us would be totally clueless.)
This post may contain affiliate links. I only recommend products I have used personally and enjoy. Our full disclosure policy is pretty boring, but you can find it here.
If you're anything like me, you're probably also on a serious budget. I had virtually nothing going in, and I felt horrible about it! I didn't have family with things to give me and I didn't have anything to take from my high school room. No sheets, no school supplies, nothing. My summer job gave me a little bit to work with, but it was just enough for essentials after my art supplies cost me over $350 – thank you, graphic design major! So I turned to Pinterest to see just what those essentials should be. And Pinterest gave me lists – plenty of them.
The problem is, most of the lists you see are totally frivolous. (I mean, string lights? A necessity? Seriously.)
I admit I wasn't in a dorm for very long, but it gave me just enough time to figure out exactly what I actually used, and what I really should have done without. If you're on a budget and need to know what's essential, here's what I found I really needed:
1: A Set of Dishes (and Dishwashing Soap)
Even if you have a meal plan, you may not be able to go for every meal. It may be due to your class schedule, or maybe you don't have a plan with unlimited meals because it's an extra grand per semester in student loans. If this is the case, you'll probably be eating quite a few meals in your dorm or in the common kitchen.
You don't need much, but a couple plates, bowls, and cups will do the trick, along with a set of flatware. I used plastic in my dorm and it was nice to not have to worry about them shattering on the concrete floor. Don't forget the dish soap, because chances are nobody will replace the one in the kitchen after it's empty!
My Pick: IKEA KALAS Plastic Plates, Bowls, Tumblers, & Flatware
2: Comfortable Bedding
Since most likely you'll have one of those lovely "Twin XL" mattresses, it's going to be necessary to get some new bedding. I love the bed-in-a-bag sets. You don't have to mess with getting individual sheets, pillowcases, and comforter; it comes all together, in one nice package that's easy to pack in the car for the trip. Plus, they're super cute and simple to coordinate the rest of the room around. I enjoy studying while sitting on my bed, so having it comfortable is a must!
My Pick: Mainstays Elisha Bed-in-a-Bag
3: A Way to Organize Your Papers
College comes with papers – a lot of them. Luckily, there are tons of methods by which to organize all that paperwork. Binders, file cabinets, mail holders…the possibilities are endless. Filing systems and mail organizers take a lot of space. Binders are a great choice in high school, but in college there's not much paperwork handed out; all of your notes are virtual or in notebooks. That's why I like to use magazine holders, because they'll hold loose papers as well at notebooks. I labelled mine per class, plus one for general paperwork.
My Pick: IKEA FLYT Magazine File
4: Cleaning Products
You'll need to keep your dorm clean – just like any other space. Luckily you don't need many products for the job. A couple all-purpose cleaners, a rag, and a broom should do just fine. If your cleaner is antibacterial, that makes it great for those shared spaces, especially the bathroom.
My Pick: Method Antibacterial All Purpose Cleaner – Citron
5: A Rolling Laundry Hamper
I specify rolling because I had five flights of stairs (or an elevator ride, but I was trying to keep off the freshman 15) to go through to get up to my dorm or down to the laundry room. A sturdy plastic rolling hamper makes those laundry trips a lot easier, even if you only go once a week.
My Pick: Home Logic Rolling Laundry Hamper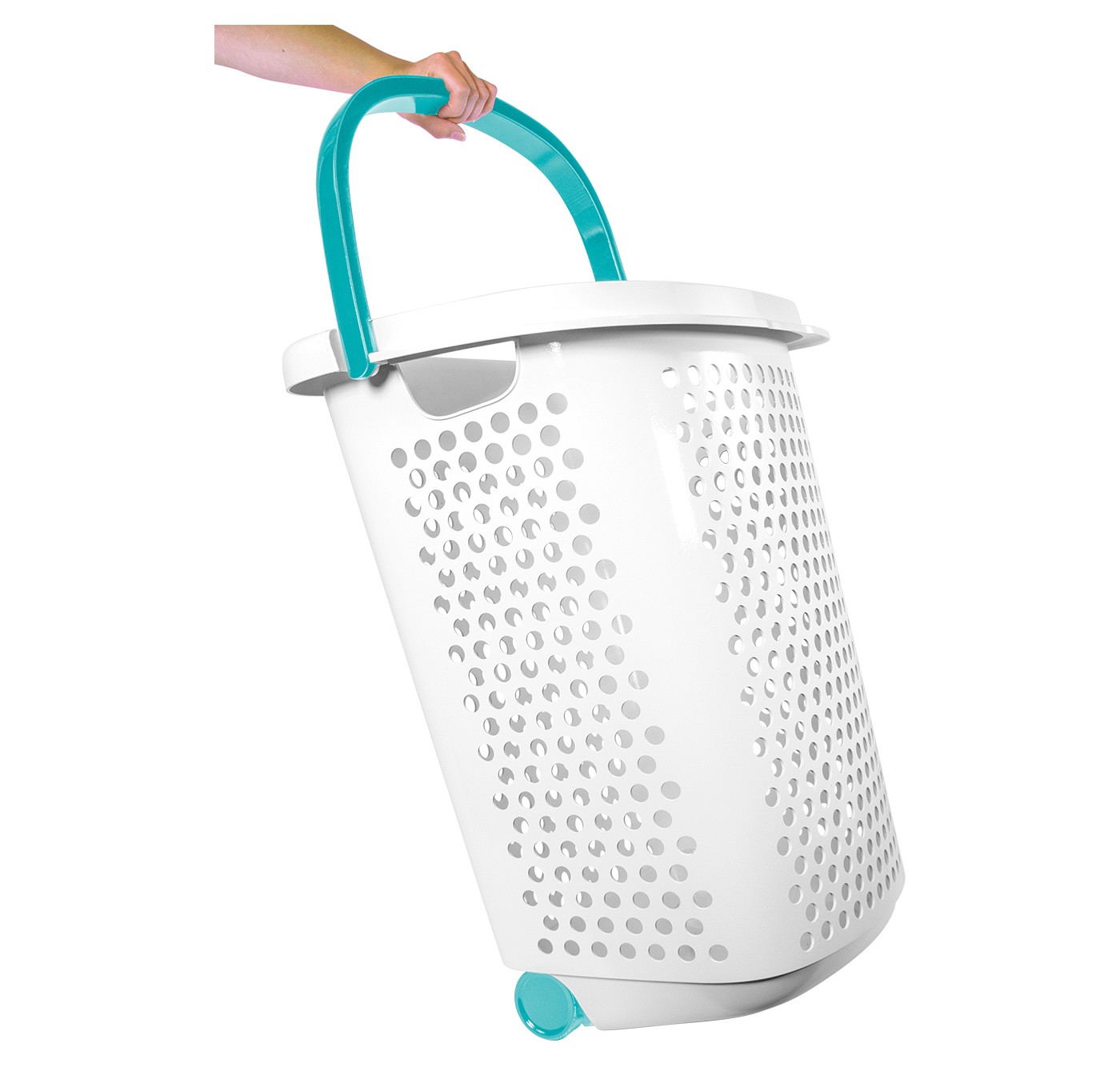 6: A Good Backpack
If there is one thing on this list you should honestly put some money into, it is a well-built, sturdy backpack that will last you through college and beyond. Always go with a two-strap backpack, not a messenger bag, tote, or purse – it'll save your back. I got my North Face in my senior year of high school and it's lasted me for four years so far, practically looking brand new. It's a little pricey, but well worth it in my opinion if you can spring for it!
My Pick: The North Face Women's Borealis Backpack